In the fast-paced world we live in, time seems to slip through our fingers, leaving us with little opportunity to savor the flavors we love. Thankfully, the advent of chest freezers has given us the ability to freeze time and preserve the delectable tastes that make our meals memorable. In this article, we will explore the incredible power of chest freezers and how they can revolutionize your approach to food storage, meal planning, and flavor preservation.
The Science Behind Optimal Freezing:
To truly unleash the power of chest freezers, it's essential to understand the science behind optimal freezing. Unlike traditional refrigerators, chest freezers provide a consistent, colder environment that allows food to freeze quickly and evenly. This rapid freezing process minimizes the formation of ice crystals, preserving the texture, flavor, and nutrients of your favorite dishes.
Long-Term Storage Solutions:
Chest freezers offer ample storage space, allowing you to stock up on seasonal produce, bulk purchases, and pre-prepared meals. With the ability to maintain sub-zero temperatures for extended periods, these freezers keep your food fresh for months, ensuring you always have access to a wide variety of ingredients, regardless of the season.
Meal Prep Made Easy:
Gone are the days of spending hours in the kitchen every day. With a chest freezer, you can take advantage of the power of batch cooking and meal prep. By preparing large quantities of your favorite meals in advance and freezing them in portioned containers, you can save time, reduce waste, and enjoy home-cooked meals with minimal effort on busy days.
Flavor Preservation at Its Finest:
Nothing beats the taste of fresh, flavorful food. Chest freezers excel at preserving the quality and taste of your ingredients. By freezing items at their peak freshness, you can lock in the flavors, aromas, and textures that make your dishes truly exceptional. Whether it's berries harvested at the height of summer or a homemade soup simmered to perfection, your chest freezer preserves these culinary gems for you to savor later.
Saving Money and Reducing Waste:
Chest freezers are not only a culinary enthusiast's dream; they are also a budget-conscious home cook's best friend. By taking advantage of sales, buying in bulk, and preserving leftovers, you can save significant money on groceries. Additionally, having a chest freezer reduces food waste by allowing you to store perishable items before they spoil, extending their shelf life and reducing the amount of food that ends up in the trash.
Chest freezers have emerged as a game-changer in the realm of food storage and meal planning. From preserving the integrity of flavors to providing long-term storage solutions, these appliances have revolutionized the way we approach our culinary adventures. With their ability to freeze time and preserve taste, chest freezers empower us to savor the flavors we love, even in our busiest moments. So, unleash the power of a chest freezer in your kitchen and embark on a journey of flavor preservation like never before.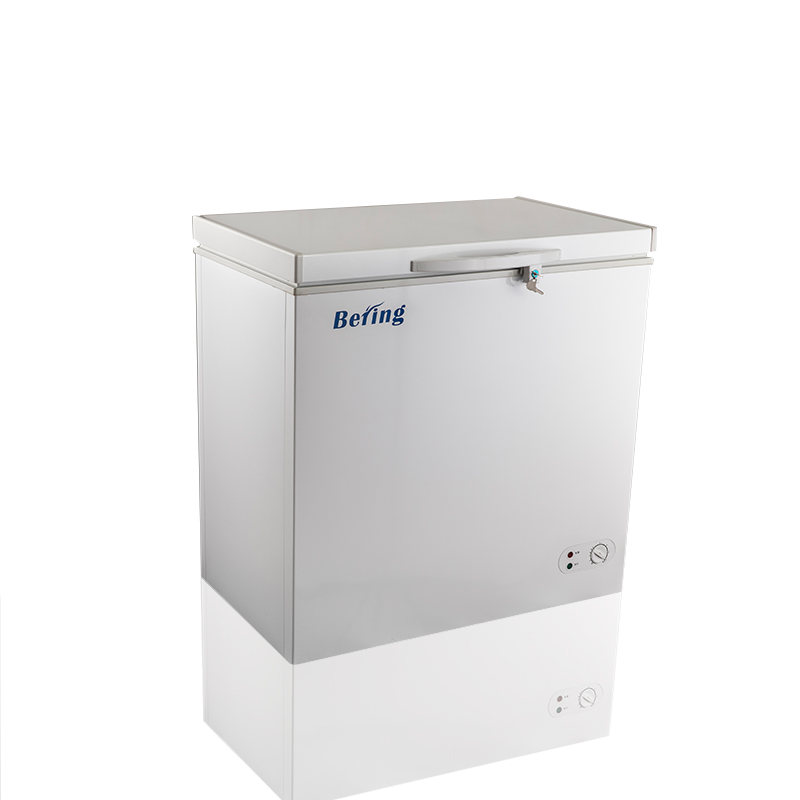 BD/BC-162Q 162L Chest Freezer Top Open Door For Sale
FREEZER CAPACITY : 162L
N.W/G.W : 28. 5/32. 5 KG
PRODUCT SIZE : 815x525x833 MM
PACKING SIZE : 850x550x873 MM
LOADING QTY : 170PCS/40.HQ
Handle & Lock : Yes
Defrost water Drain : Yes
Removable Basket : 1
Refrigerant : R600a or R134a
Condenser : Inside or outside
LED light : Optional
Wire divider : Optional
Inner Sliding Glass : Optional